I didn't end up going on a trip last year, so this year I was determined to go somewhere for a week-long trip. Originally the plan was to ride to Colorado and experience the Rockies and all the twist and turns I could find. But schedules changed and to roll with it I changed the route to just be to Wyoming. There was six of us going on this trip: my brother Dave Clark, brother-in-law Jay Moen, Mike Sanders (a friend of Jay's from Olympia), Grant Collins, Tim Pontius, and me, your humble author.

The original plan was for us to ride down to Stanley, Idaho and camp there the first night, then ride to Jackson, Wyoming by way of the Craters of the Moon National Monument. Then continue east to Mount Rushmore after a quick ride through Yellowstone, then up to Devil's Tower and a short stop at the Custer Battlefield. After that we'd head up to Glacier National Park and then home. That would be about 2500 miles. However, you know what they say about the best laid plans, etc.? Let's just say it didn't end up quite that way.
Friday, July 5th
Mike had taken off from Olympia on Friday morning for Pullman where we would meet him on Saturday morning. I decided some of us could shorten the ride a bit by heading down to Colfax Friday night. So Tim and Jay met me at my house and we took off for Colfax. My friend Greg Nolan had offered his yard for us to camp on. We took 195 to Spangle and headed off on 27 through Oakesdale through the beautiful Palouse farmland.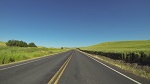 The fields in early July are a really nice shade of green. The weather was perfect for an early evening ride. We headed past Steptoe Butte for 195 in order to drop into Colfax.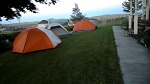 I had been through town a weekend or so before and had scoped out a place to eat. We ate dinner at Eddy's Chinese restaurant and then called Greg Nolan who met us there in his Ural and led us up to his house. We set up tents, ate ice cream and peach cobler and talked into the evening finally going to bed about 9:30pm. This was a pretty easy first day.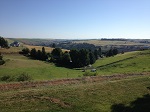 Page 1 of 10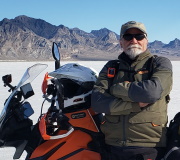 Tom Clark
I'm a Senior Software Engineer at Intellitect, living in Spokane, Washington. I also do a little development work on the side. And I love riding motorcycles all over the country with my friends.
© 2022 MTC Software, Inc.