The Route
Let's title this Oregon, Part Deux. A year ago, on the Memorial Day weekend, Bill Motsenbocker led three of us on a great trip through northeast Oregon that I thought couldn't be topped. He wanted to go down again, but show us some roads that for the most part, we had not seen before. So off we went! This trip would be Bill, myself, my brother Dave Clark, and good friend Tim McCart - Dave and I on our matching black Suzuki V-Strom 650s and Bill and Tim with their Honda ST1300s.
Saturday, August 31, 2013
As before, we met at the Harvester in Spangle for breakfast. This time, I was not the on-time guy that I usually am. Bill wanted us to get an early start as our initial destination was Heppner, Oregon and he figured we'd need the extra time. As it turns out we didn't, but the plan was to meet there at 8am. I got a late start for no reason at all and was about 10 minutes late and the last one to arrive. Dave, against all odds, was there on time, nearly rocking the foundations of time and space. Bill fortunately has a strong heart. Tim, who arrived after Dave, didn't know to be shocked. So we made our way inside to have a great breakfast and then hit the road.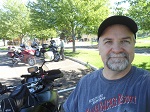 We went south through a different route than before, starting off on the Cheney-Spangle road and winding our way through the farm fields eventually passing through St. John. We continued south on the Endicott-St. John road which took us through Endicott (wow, what a surprise) where we stopped for a break. I think it was at this point that we realize we were going to be in Heppner really early, so we relaxed and took our time. Leaving Endicott on the southwest road, we jogged over to the South Endicott road, then via Union Flat Creek Road we hit Luft Road which got us to highway 26. Turning east we headed toward Dusty, but turned south again on 127 eventually crossing the Snake River at Central Ferry. From there we kept heading south, connecting on State Route 12 going through Dayton, Waitsburg, Dixie, and eventually Walla Walla where we stopped for lunch at Subway. Since it was as hot as you-no-where I had a salad which really hit the spot. Subway makes these nice chop salads - perfect on a hot day.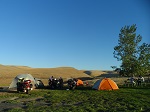 We took a pretty long lunch since we had lots of time, but finally got back on the bikes a little before 2pm. Leaving Pendleton we headed south on SR125 which turns into Oregon SR11. We rode through Milton-Freewater, passed Weston, Athena, Adams until finally passing through Pendleton (after a few wrong turns). We hopped on I84 to get to Highway 395 to keep going south, though we didn't stay on it for long. We switched over to SR74 to head to Heppner which we got to at a quarter to 3pm. So we had a lot of time to set up camp and relax.