Riding The Colorado Backcountry Discovery Route, 2021
How to start telling a story is always the hard part. How far back do you go? I guess in this case I don't have to go back very far: September of 2020 as we were finishing the Idaho BDR. We all knew we wanted to do Colorado next because of all of the states that the BDR organization has mapped, that state is the most beautiful. We'd all ridden through it on street bikes back in 2014 (see "Colorado Rockies 2014") and couldn't wait to get into the backwoods to see that beautiful countryside close up.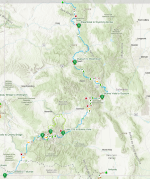 Probably the first thing to tell you is what the trip is like from they way it's organized. If you click on the image to the right you can expand the image of the Colorado route as mapped out by the Backcountry Discovery Route organization. It's set up to be run from south to north. Each of the green numbers represent a section, six in all, that take you from the Four Corners monument through mountains, zig-zagging your way up to the Wyoming border. If you do the route exactly as plotted it is a hair under 700 miles. The thing is, most people don't do BDRs exactly as designed. You make the route your own, taking detours, changing highlights, whatever it is that you most want to do. Also, conditions are changing all the time and often you have to alter the route because of weather related issues (floods, landslides, snow, etc), construction delays and detours, mechanical issues of your bikes, or worst yet: injuries. So no two groups do a BDR the same.
But the real preparation started only a few months after Idaho. Because we knew we didn't want to trailer our 250s down and back. That meant different bikes. Was there a "unicorn" that would do both street and dirt equally well? There were some recent offerings that looked promising, but weight is always a big concern for us. And it was a significant commitment and gamble because to do this meant selling two bikes to buy one. For me, I was selling my beloved Triumph Tiger 1050 and Yamaha WR250R. Dave would let go of his trusty Suzuki Vstrom 650 and Yamaha WR250R. While Tim would be finding a new home for his Harley Sporster 1200 and Kawasaki KLX250.

Watch Part One

Watch Part Two

Watch Part Three
Page 1 of 23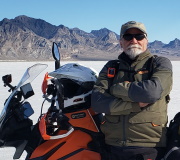 Tom Clark
I'm a Senior Software Engineer at Intellitect, living in Spokane, Washington. I also do a little development work on the side. And I love riding motorcycles all over the country with my friends.
© 2022 MTC Software, Inc.