Washington State Circumnavigation, 2019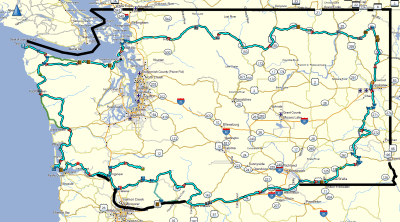 The idea of circling the state of Washington as close to the borders as is practical is the concept of this trip. I had been thinking about doing this for several years and just never got around to it. I had planned to do it solo, but changed my mind when I realized I couldn't afford the cameras I needed to video it like I wanted. So I asked Tim Pontius if he was interested, which he was. We picked a week where neither of us had any commitments and I mapped out a route. Now, it'd be cool to try and do a "four corners" type of trip, but the Northeast and Southeast corners are really only accessible by dirtbike. So that's not how I've defined this trip. My definition is to circle the state as much as possible as long as it continues to be fun. That will become apparent when you look at where we actually rode.
The basic route however was to take the North Cascades scenic byway from east to west, cross down through Whidbey Island and then take a ferry to Port Townsend and continue west to Neah Bay and finally Cape Flattery. That give us the Northwest corner. Then we run south along the coast on 101 again, until we get to Cape Disappointment which is the Southwest corner. The simplest route from there would be to head east and hit highway 14 along the Columbia River. But that takes us way too close to Vancouver and Portland traffic. Besides, I wanted to see the west end of Mt. St. Helens, so our route takes us up there, then back down to 14 near Carson.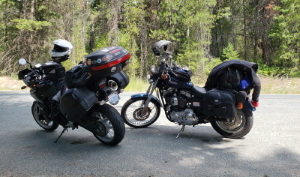 Then it'd be 14 to Umatilla for a little bit so we can get to Walla Walla, then angle east to the Palouse and north to home. As it turned out, the time after Mt. St. Helens was something I didn't really put too much detail in so we could adjust as we wanted. Which we did.
Another aspect of this trip was that I wanted to take my time and video as much as I could. With that in mind I looked for anything interesting along our route that we could stop and see, take pictures, etc. I marked these on the route I loaded in my GPS. I tend to really enjoy the riding part of these trips and don't stop. So I asked Tim to be thinking of places he wants to see, or that sounded interesting.
Page 1 of 12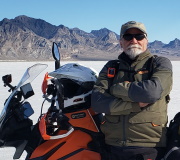 Tom Clark
I'm a Senior Software Engineer at Intellitect, living in Spokane, Washington. I also do a little development work on the side. And I love riding motorcycles all over the country with my friends.
© 2022 MTC Software, Inc.