In July 2010 I decided that I wanted to take my bike on a short trip with some friends. I'd not done anything like this before, so I emailed a few guys to see if they were interested and if we could find time to go. Initially it was Grant Collins, Tim Pontius, and Kevin Mulligan. Right off the bat, Kevin and Tim said that weekends were out, which was a bummer because that meant I could only use vacation time. I was hoping to be able to use weekends to extend the trip. But I decided I would just have to deal with it. Grant groused as usual about how busy he was even though his boss had been badgering him to take time off. He had his maxium vacation time stocked up and a main reason he finally decided to come was that he was going to lose 3 days of vacation if he didn't use them on time. Dang workaholic! But he said yes. He asked if it was okay if he brought a buddy along and I said sure. So Bill Motsenbocker would be joining us. That made five of us going.
Who Has What Free?
I thought this would be the toughest part – figuring out when we could go. But I polled everyone and got the third week of August as a time that everyone could go. I wanted to go a full week, but I to take what I could get. Kevin could only go three days, Tim had something going that Friday, Grant also wanted to be back by Thursday. So four days looked to be the max.
Where Do We Go?
I had been thinking all sorts of grandiose plans for traveling around the state, but with only four days, those plans got scrapped. I tried to get us over to Mt. Rainier or Mt. St. Helens and back south to home, but it just seemed like too many miles per day. One of Grant's requirements was not too long a days riding each day. He wanted to be able to stop and smell the roses, so to speak, along the way. Turns out that his back is also a problem. He really needs a custom seat to alleviate the discomfort. So that was another requirement that affected where we went. I thought heading into Montana and back home would be some nice scenery and I originally wanted to come home via the St. Joe River Road, but to get there we'd have to take about 20 miles or so of dirt, which Kevin and Bill would not do. I finally settled on riding up north to Highway 2, picking up Tim and Kevin along the way and then riding over to Glacier National Park, then south to the Lewiston area then up through the Palouse to Steptoe Butte and home. Everyone thought that would be okay, so we were set - we had a route.
Page 1 of 18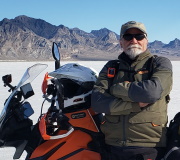 Tom Clark
I'm a Senior Software Engineer at Intellitect, living in Spokane, Washington. I also do a little development work on the side. And I love riding motorcycles all over the country with my friends.
© 2022 MTC Software, Inc.