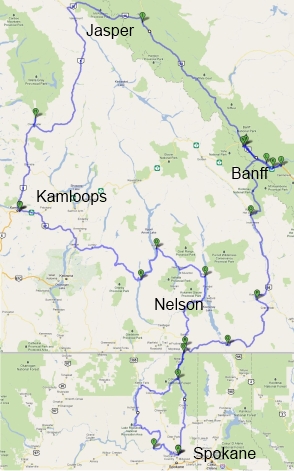 Another year passes and it's time to hit the road again. For 2011 we decided early that we wanted to make a longer trip - 1 week - and head into Canada. The basic route would take us through Nelson, Kamloops, Jasper, Banff, Radium Hot Springs, Creston, and then back to Spokane. Because we had a better start than last year, we were able to get reservations earlier than last year. However, we happened to pick the a week where the weekend is Canada's busiest for the summer - the three-day weekend surrounding Civic/Provincial Day. So getting our reservations for campsites was trickier than originally thought. Still, we worked out the details of the route, days, campsites and prepared for another fun trip!
Who's Going?
I thought originally we'd have seven or eight of us, but schedules and bills dropped the number down to five: me, my brother Dave Clark, brother-in-law Jay Moen, Tim Pontius, and Bill Motsenbocker. Joining us for the first day/evening only would be a couple of Bill's friends: Terry Hammond and John Beard.
Departure Date: Tuesday, July 26, 2011
Because I was short of vacation time, I talked the guys into leaving at noon on that Tuesday. So we planned to meet at Frank's Diner on Highway 2 at noon, which is when I got there. On time for a change. Jay rolled in a minute later. Ten minutes later Bill found us. So we're just waiting for my brother. And waiting. And waiting. I tried calling his cell and didn't get an answer so I hoped that he was on his way. So about 12:30 he rolls in. He just didn't get away on time even though he had the whole day off. Did I mention his bike? He's riding a 2004 Kawasaki Super Sherpa. That's a 250. I know, he's crazy, but he was determined to go. One thing he forgot was to oil his chain, so it's back to my house (I live really close to Frank's), where we get it oiled and are finally off at 1pm. One hour late - probably not too bad all things considered. We rode up Highway 2, turned north on 211 to pick up Tim. From there we crossed the bridge at Usk to ride up Le Clerc Creek Road through the Kalispel Reservation because it's such a nice day for a ride along this scenic road. We'd get on to Highway 31 at Ione.
Page 1 of 14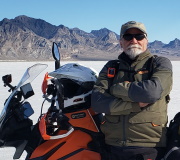 Tom Clark
I'm a Senior Software Engineer at Intellitect, living in Spokane, Washington. I also do a little development work on the side. And I love riding motorcycles all over the country with my friends.
© 2022 MTC Software, Inc.