Saturday, July 6th
The Saturday morning plan was for Dave to meet at Grant's house around 6:30am so they could get to Colfax around 7:30am. The purpose was so that we could meet Mike early enough to have breakfast before hitting the road. So Tim, Jay, and I waited for Grant and Dave to join us at Greg's. As usual, they were late - getting to Colfax about 8:30am. So we didn't get to Pullman until about 9:30am, meeting up with Mike Sanders at the Holiday Inn. Of course this required more talking, messing around, two trips to Walmart, chatting with Dave and Paula Cartwright (she's an old friend of ours from high school days), and finally about 10:30am we finally got out of town. So not exactly an efficient start to the trip.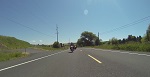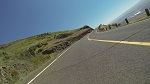 But we finally did get away and stayed on 195 to Lewiston, but took the old highway down to town known as the Spiral Highway. Lots of twisties there and a chance to record some footage on our GoPro cameras. I had been wanting one for quite some time and bought one about a month before our trip. This was to be a trip where I experimented with different shooting positions and would see what kind of camera mounting positions worked and what didn't. Dave has his plus one belonging a friend of his. Grant had his son's GoPro, so between the three of us we had the chance to get a lot of really good video.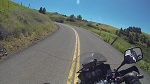 Once down to Lewiston, we headed east on 95 out of town until we got to the Winchester Grade Cutoff at Culdesac, Idaho. This is a nice twisty road that my friend Bill Motsenbocker showed me on a past trip which leads to the little town of Winchester. The road twists and turns through the farmland with hardly any traffic.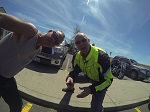 When we rolled into town they were having a Fourth of July celebration. Actually it had just ended when we got there. After that we continued on into Grangeville where we had lunch at Subway. In keeping with the theme of running into people we know, Tim and Grant ran into a couple in the Subway that they knew from Spokane.
After lunch it was off to White Bird Pass as we continued our way south on 95, turning left at New Meadows eventually coming to the pretty town of McCall on the shores of Payette Lake.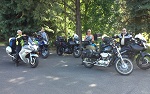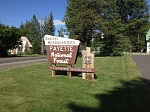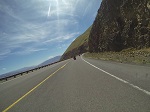 Here is where we lost Mike for about 30 minutes - he didn't see us pull off the road for a breather. This is a really pretty little tourist town nestled in the mountains next to the lake. From McCall we continued south until we got to the little town of Banks, where we turned east toward Lowman.
Page 2 of 10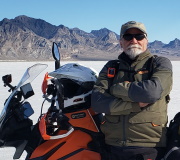 Tom Clark
I'm a Senior Software Engineer at Intellitect, living in Spokane, Washington. I also do a little development work on the side. And I love riding motorcycles all over the country with my friends.
© 2022 MTC Software, Inc.