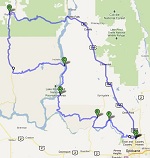 Monday, September 5, 2011 - Labor Day Ride
Bill Motsenbocker wanted to ride today and put out a notice on the Fast Lane facebook page, but it ended up being just him and I. But what a day we had. Check out the route at right. A quick ride up to Kettle Falls by way of boring Hwy 395, but from there we took highway 20 over to Republic. They're just finishing up the chipsealing (boy do I hate that stuff) so we had to keep our speed down. Bill had a near spill coming back from Canada this summer, so we're both a little skittish about it. Still, the weather was warm and the scenery beautiful. We had lunch at a bar there and then took off south on Hwy 21, which is a nicely turning route through a north/south valley. Then we turned east on the road to the Inchelium Ferry. THAT was a great road. Lots of twisties and only two cars that we had to pass. If that doesn't bring a grin to your face then you've got real problems! After a short wait for the ferry, we crossed Roosevelt Lake and then turned south again on 25 and rode on to Fruitland where we took a wrong turn trying to get to Welpinit. It was a great road until the pavement stopped. Chagrined, we turned around and asked directions at the store back at the highway. Getting on the correct road this time, we once again hit a great road with plenty of twists and turns. Passing through Wellpinit on to Ford through more twisties, we turned right at Ford, hit 231 south, then 291 east on through Tum Tum, and eventually home. What a great ride! About 300 miles for me and all on one tank. Mind you, I had to put 5 gallons in my 5.8 gallon tank, but at 58.5 mpg, I'm not going to complain.
| | | |
| --- | --- | --- |
| After lunch | Awaiting the ferry | On the ferry |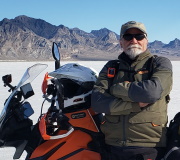 Tom Clark
I'm a Senior Software Engineer at Intellitect, living in Spokane, Washington. I also do a little development work on the side. And I love riding motorcycles all over the country with my friends.
© 2022 MTC Software, Inc.