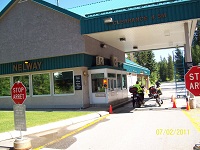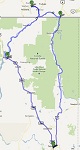 Saturday, July 2, 2011 - Canada Trial Run
My brother Dave hadn't had his motorcycle for very long, so we've been doing a few rides, each one longer than the last. This one is to be the final one before we go. This ride is from Spokane, up across the Candian border crossing at Nelway and back. Since it was just the two of us, we decided to take this dirt road from Nelway to the Waneta Highway called Pend O'Reille Road. The first part was drivable by car, but before too long it was truck or motorcycle only. There were lots of rock, ruts, and holes. With his Kawasaki 250 Super Sherpa, Dave had the better of it. My V-Strom is capable, but not as easy to toss around. Still, I'm glad we did it. At the end of the dirt was the Seven Mile Project, which is an interesting dam. As you can see from the pictures, it has this "ski jump" at the end of it which from my way of thinking must be so the rushing water doesn't dig up the river channel below. It was pretty spectacular to see. Then we went up to Trail for lunch, and back down through the Waneta border crossing, then 395 for home. It was about 260 miles or so, which gave Dave a good indication of the type of days we'd have on our upcoming trip.
| | | |
| --- | --- | --- |
| Seven Mile Dam | Dave and I | The bikes |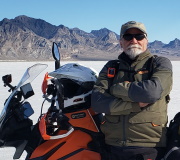 Tom Clark
I'm a Senior Software Engineer at Intellitect, living in Spokane, Washington. I also do a little development work on the side. And I love riding motorcycles all over the country with my friends.
© 2023 MTC Software, Inc.