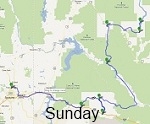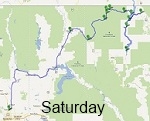 Saturday & Sunday, August 4-5, 2012
Lake Koocanusa, Montana
The itch to ride was upon me so I made up this route and talked Tim Pontius and Grant Collins to ride with me. Grant actually got to my house on time at 8:15am on Saturday, but as usual, we ended up wasting 15 minutes talking, but finally got on the road about 8:30am. So we headed up Highway 2, then left on 211 to get over to Tim's house near Dalkena. After chewing the fat for a bit and seeing his trout swimming around the milfoil in his pond, we took off and headed through Newport to Sandpoint. Tim needed to stop at the Army surplus store to get a part for his stove, but ended up buying a new one - a tiny little thing that runs off of a small propane canister. After that we got back on to Highway 2 and stopped at Zips in Bonners Ferry for lunch. Then off to Highway 2 again for about 23 miles until we get to the Yaak River Scenic Byway.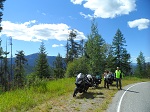 This gets us heading north and is a really pretty highway. Grant will complain that we didn't stop to take enough pictures and of course, he's right. Anyways, we continue on until we get to the place where the main road turns south to follow the South Fork of the Yaak River. We stay straight though and head through the mountains so we can get to the norther end of Lake Koocanusa. This is NF-92 and the sign we passed at that point said "This road is not maintained for public use." A little ominous, but it's still paved.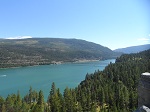 Funnier still is the speed limit signs that say "checked by radar" - I doubt radar has been seen on that road in many years. Regardless, we went cautiously because the road, while paved, had some ridges in it here and there which made cornering a bit interesting at times. There were some great sections however and I was glad we took it. It did indeed eventually dump out to the north end of the lake to the bridge that crosses the lake.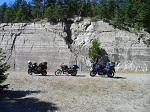 Because Tim needed gas (tiny Harley tank!) we crossed and headed north toward Eureka. I kept looking for a nice sign to take a picture of, but never found one. Probably should have gone all the way into town instead of just getting gas at the first place we found.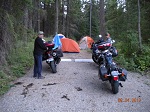 Then it was back the way we came and across the bridge to take the Lake Koocanusa Scenic Byway which runs along the west side of the lake. Very nice roads there! I had a blast in the twisties along side the lake, slowing down now and again to let Tim and Grant catch up. We eventually got to McGillivray Campground where we found a place to camp. We set up camp (why do I always for get to take pictures of camp?!?) and then went down to the lake to take a dip and cool off. It was a fairly long hike, but we finally found the swimming area. The water was cold so we dipped and left. Back to camp to try our luck at dinner. Grant and I tried some freeze-dried dinners and I must say mine was very tasty.
Page 1 of 3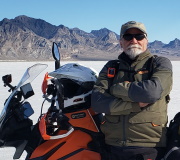 Tom Clark
I'm a Senior Software Engineer at Intellitect, living in Spokane, Washington. I also do a little development work on the side. And I love riding motorcycles all over the country with my friends.
© 2022 MTC Software, Inc.