Epilog
This was another great trip. Far different from any other that I've taken thus far. I had always wanted to try the Vstrom at the task that it supposedly is capable of. I don't say built for because I don't believe it was. I wanted to challenge myself a bit as well. Both goals were met on this trip. I haven't done any significant dirt riding since I was a kid growing up in Coeur d'Alene, Idaho on a borrowed bike. I did have a Honda XL250R that I rebuilt and rode for a short time, but only once really offroad. It did help me to regain some of the dirt skills I had, meager though they were. I definitely enjoyed that.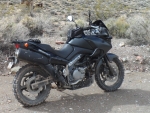 Now to the bike. Yes, it's capable of such a ride. I prepped the bike decently, putting the equipment necessary to get it through in one piece. I figured I'd lose at least one blinker and I did. The Continental TKC80? I know now why they have such a good reputation. I took them through mud, sand, dirt, and rocks. No punctures, great traction - just a really good sure-footed tire. The skid-plate really got a workout. I would have punctured the bottom of the engine dozens of times had it not been present. Having solidly supported ultra-tough protection is a must. To go without it would be foolhardy. The dirtbike footpegs I used were also invaluable as it gave me a good solid platform when standing up on the bike. Last are the Meier handguards. They came late. Didn't have the right size clamps. But they saved my clutch lever and left hand from being broken and so were well worth the effort.
But is the Suzuki Vstrom a real adventure bike? My conclusion is that it is a street bike that can be taken offroad if necessary, if properly prepped. But at roughly 480 pounds, it is just too dang heavy. If the bike was 200 pounds lighter I probably wouldn't have dropped it at all. 480 pounds is makes for a fair amount of inertia to try and resist.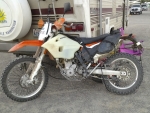 The problem I have with "adventure bikes" as a class is that the manufacturers have all gone for big, powerful, heavy bikes. If I really had to choose a bike to do an adventure with and money was available, it would be a KTM 350 EXC. This is a bike that weighs about 300 pounds and has plenty of horsepower. The one pictured at right belongs to Dana Pieze. You don't need 100+ horses on an adventure bike. It needs to be nimble, not fast. Powerful enough to get you up hills, but not heavy.
That's what I learned on this trip. Bike manufacturers are leading us down the wrong path concerning adventuring. Weight and handling are everything. I used to think a Tiger 800, Yamaha Super-Tenere, or BMW 1200GS was the way to go. Not anymore. I will need two bikes: a street bike of about 1000cc size that weighs no more than 500 pounds, and a dualsport 250 or 350 that weighs no more than 300 pounds. In other words, use the right tool for the job.
Page 12 of 12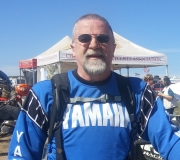 Tom Clark
I'm Chief Technical Overlord for Behind The Gavel, living in Spokane, Washington. I also do a little development work on the side. And I love riding my bikes all over the country with my friends.
© 2021 MTC Software, Inc.