Friday, September 11, 2020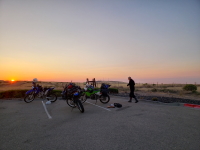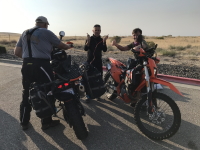 We got up and went downstairs to the "breakfast" which because of COVID restrictions ended up just being a breakfast sandwich, a roll, and some fruit. At least it was something if not very tasty. We finished up in the hotel, returned the keys and went outside to prep the bikes and return the truck. We unloaded the bikes, cleaned out the truck, and then Dave and I headed over to drop the truck off. We rode back together on my bike and then back at the hotel parking lot, got our luggage together and ready to ride. Glenn and Janet were there too of course and would follow us out later. She accidentally left her key on so the bike battery was dead. We helped them jump the bike. We spent a LOT of time talking, as all motorcyclists do. But we eventually got on the road about 8:30am MTN.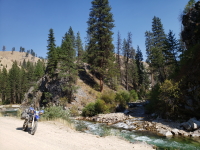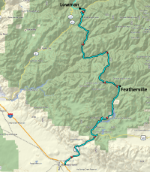 Our first day was a pretty one, weather-wise as no smoke from Pacific Northwest fires was near us. We decided that with our Sena's on, there was no particular reason for me to lead every day, so Dave rode first, then Tim, then me. I missed the initial turnoff, but figured it out and got on the right track turning on Anderson Ranch road and then riding past the reservoir of the same name. As will be with most of the trip, the roads were easy and the countryside pretty. We had one "water crossing" to do and that was where a washout of a culvert left an over-large puddle to go through with a 3 foot ledge on the other side to get up on. No big deal for any of us on our smaller bikes.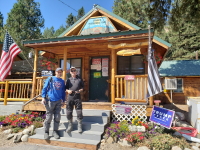 Around noon we rode into Featherville and had lunch at "Cyndi's Featherville Cafe" and was served by a guy named Clyde. Clyde is the very epitome of a Trump-loving Idaho Redneck. He was awesome! We all had BLTs for lunch and he favored us with some of his opinions which, in keeping with his nature, were very un-PC. We had a good laugh as well as a good lunch.
After lunch we headed north again up toward the Trinity Mountains. One of the long uphills was a pretty sandy road and it was fairly hot that first afternoon. Warm enough that my bike overheated a bit, which had also happened once on the WABDR. It's a little disconcerting, but I didn't notice it until we were at the top, after which the bike cooled down rapidly.
Page 2 of 14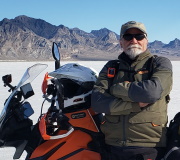 Tom Clark
I'm a Senior Software Engineer at Intellitect, living in Spokane, Washington. I also do a little development work on the side. And I love riding motorcycles all over the country with my friends.
© 2022 MTC Software, Inc.