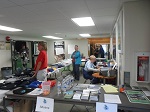 Anyways, on to the purpose of the trip: the meetings. Like any conference, there are evening and day meetings. Some are replicated so you can catch something that you missed. First up was Grant and Susan Johnson, the founders of Horizons Unlimited with their story of how they got started with all of this in the first place. Repeated in other's stories was the mantra of "know your bike!" You need to be able to repair as much as you can, which includes tire punctures. Practice at home before you really need to. One other comment that stuck with me is to be patient. When they were in Africa they would wait at some of the watering holes they were watching. Tourists would zip in, glance at it, see nothing and then take off. Grant and Susan waited to see what would develop and they saw some amazing animals. Moral: don't be a slave to your schedule and miss out on the adventure. Next was Nevil Stow talking about part of his 2013 RTW (Round The World) trip, London to Vladivostok on a Suzuki DR650 that he did this year. Nevil's a funny guy and it was very entertaining to listen to his adventure. As with all the presenters, the slides he showed were awesome! Last up for the evening was Kai-Uwe Och, a German transplant living in Sweden. He had a great presentation about riding in Sweden and Norway. Beautiful pictures and some interesting riding in the snow in -27C weather! I sat next to Kai and chatted with him a bit before his presentation and a couple of times elsewhere over the weekend. Super nice guy!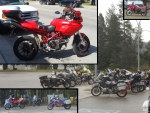 Before going on to the next day, I think I should take a moment to talk about bikes. After I set up camp and had lunch, I sat on a picnic table next to my tent and read for awhile. While doing that more and more riders came in and so I started my own unofficial review of what people ride. The overwhelming majority are BMW. Of those it appears to be evenly split between the big 1200 GS and 800. Older newer and with different setups, but lots of BMWs. After that I'd say the next most popular would be the Kawasaki KLR. There was not a lot of variation among them aside from what people were carrying. There about 8 or 9 of my bike represented, the venerable Suzuki V-Strom. After that it was a smattering of all sorts of bikes, from Harley's to a single bright tomato red Ducati Multistrada (Mio amore, it is the sexy!). I saw a couple Triumph 800XC which is one of my lust bikes. Others: Moto Guzzi Stelvio, two Yamaha Super Teneres, a few KTMs, a Ural (Russian bike with side car) and a BMW 1200 with a side car.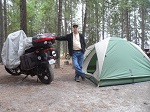 The cool thing about all of this is that no one is talking down someone else's bike, other than good-natured ribbing. This is a group of people that like to travel. If you're into traveling on a bike, whether it's on hard pavement or rugged dirt, all of these people are happy to have you there. No pretensions were present as far as I could tell.
Friday, August 23, 2013
The morning brought rain, but I didn't really care as I wasn't riding in it! We had breakfast around 8:30am and then when 10am rolled around the day's presentations began. I elected to sit in on Grant Johnson's "Photography on the Road." This is something that I really want to get better at and Grant had a lot of suggestions. I won't bore you with them all but the key thing is that a good picture should tell a story without having an explanation.
Page 2 of 6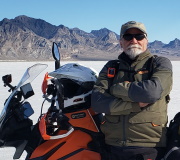 Tom Clark
I'm a Senior Software Engineer at Intellitect, living in Spokane, Washington. I also do a little development work on the side. And I love riding motorcycles all over the country with my friends.
© 2022 MTC Software, Inc.