Friday, July 31, 2015
When I sleep in a tent, I have an internal alarm clock that I can't seem to turn off which wakes me up at between 5:30-6am every day without fail. This day was no different than any other. I got up and dressed (eventually) and chatted with everyone once they got up. At the rally each day there would be a short devotional at 8am. I would have been happy to attend, but I was ready to ride hours earlier than that and the day would be quite warm, so riding early was preferable to later.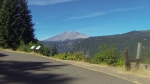 So I hit the road a little before 8am this day with my plan to ride south to the Windy Ridge road to Mt. St. Helens. I had intended to have breakfast somewhere, but I ended up just getting one of those ridiculously sweet fruit pies and a Gatorade where I filled up with gas. My route today would take me south from Randle on state route 131 which runs through the Gifford-Pinchot National Forest. This highway turns into NF25 which is a nicely twisty road, but unfortunately has a lot of frost-heaves in it.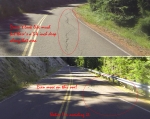 For those needing a definition, a frost heave "is an upwards swelling of soil during freezing conditions caused by an increasing presence of ice as it grows towards the surface, upwards from the depth in the soil where freezing temperatures have penetrated into the soil (the freezing front or freezing boundary)." What that means is there are a lot of large bumps and dips in the road, most of them very abrupt and crossing all over the road (see picture at right). My bike, being somewhat dualsportish, has pretty good suspension so all I mostly did was dodge them when I could. I still hit plenty of them and that slowed down my overall speed. Which was okay because I had nothing but time. I rode alone because I wanted an early start and hadn't really spoken with anyone else about where they would be riding. But I'm finding that I'm quite satisfied riding alone. I go at the pace I like (which is usually fast) and stop whenever I want. So it was a good day's ride.
Here's a funny aspect of the day's ride. I took the Windy Ridge ride because Rob had really recommended it and it looked nice and curvy on Google Maps. The further I got on the road had me feeling a sense of deja vu. When I went around a particular corner and there lay Mt. St. Helens in all its destructive glory, I remembered. I had taken the family on an RV vacation back in 2006 and we had driven up this road before. However, this time with no one in front of me and me on my bike, I could take it significantly faster! I arrived at the Windy Ridge Observatory at 9:30am, ate my snack and gave Vicki a call.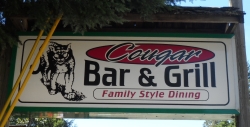 Afterwards, I headed back down the way I came, but continued south on NF25 toward Cougar. The road down was much the same with occasional frost heaves. I stopped at the Cougar Bar & Grill for a nice sandwich, then got back on the bike and started back he way I came. I stopped at the Ape Caves. It is the third longest lava tube in North America at 13,042 feet. The temperature is a cool 42 degrees Fahrenheit and quite dark (it's pitch black). I would love to have explored it, but stupid me, I forgot my flashlight back at camp. I should have done a bit of reading about it beforehand so I would remember that.
Page 2 of 6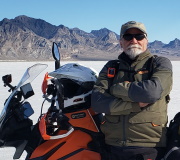 Tom Clark
I'm a Senior Software Engineer at Intellitect, living in Spokane, Washington. I also do a little development work on the side. And I love riding motorcycles all over the country with my friends.
© 2022 MTC Software, Inc.