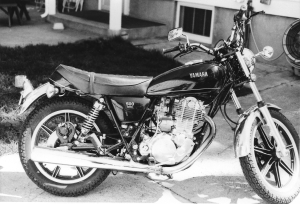 1978 Yamaha SR500
| | |
| --- | --- |
| Engine | 500cc single cylinder four-stroke, air cooled, carburetor, SOHC, 32 hp |
| Transmission | 5-speed, chain drive |
| Starting | Kick, with compression release |
| Fuel Capacity | 3.2 gallons |
| Brakes | Disc, single front and back |
| Weight | 384 lbs |
| Color | Black, with gold lettering and pinstripe |
My Thoughts On The Bike
Ah, that first love! Yes, I look back quite fondly on this motorcycle. It was my first bike and I have to say, I picked a winner. This bike was designed in an era of modern streetbikes with electric start and all the bells and whistles. But this particular bike was to be a harkening back to those solid, manly, british singles of the 50's and 60's. The best example was the BSA Gold Star. With that bike you'd better have strong legs and quick reactions to keep from breaking your knee. These were untamed, hard-starting motorcycles. Yamaha wanted to have a version that thrilled the soul, but was also not as scary as that BSA. So what they delivered was a 500cc single cyclinder engine with counter balancing to tame the vibrations, and a compression release to allow the rider to position the piston at top-dead-center before kicking it over. This made it far easier to start than the bikes it was patterned after. And it needed to be as there was no electric starter. Once you got used to starting it, it fired up pretty easily though if you messed around too much it would flood pretty quickly.
The bike was ridiculously fun to ride. Light and nimble with a ton of torque, it felt very responsive. I wasn't the rider then that I am now, so I can't really tell you how well it cornered and handled in precise terms. Besides this was a long time ago - I bought the bike in the spring of 1979. But I rode it all over the county and with my girlfriend here and there. Bikes and girls - what a great combination.
I wish I still had the bike. For just hopping on it and riding around town or on little day rides this bike was great. But at the time I was ready to trade up to a larger bike for touring, so I sold it after owning it only about a year and a half.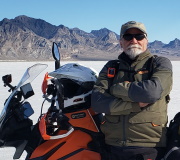 Tom Clark
I'm a Senior Software Engineer at Intellitect, living in Spokane, Washington. I also do a little development work on the side. And I love riding motorcycles all over the country with my friends.
© 2022 MTC Software, Inc.