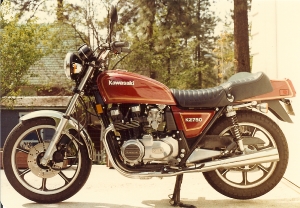 1980 Kawasaki KZ750E
| | |
| --- | --- |
| Engine | 750cc four cylinder four-stroke, air cooled, carburetor, DOHC, 74 hp |
| Transmission | 5-speed, chain drive |
| Starting | Electric |
| Fuel Capacity | 4.6 gallons |
| Brakes | Disc, Dual front and single back |
| Weight | 502 lbs |
| Color | Burgandy red, with gold pinstripe |
My Thoughts On The Bike
When I bought this bike I was of a mind to become a serious rider. I did a lot of reading and some test-riding of other bikes and for the money, the Kawasaki was tops. Honda may have led the way with it's 750-4, but Suzuki and Kawasaki's bikes were right there with them in terms of power and quality. Yamaha had an 850 at the time with shaft drive and I considered it, but the balance felt oddly front heavy at slow speeds and the shaft drive was a little clunky, so I settled on the KZ. All four of the Japanese manufacturers were always competing for fastest bike back then and at the moment I bought my bike, Kawasaki had the title for fastest production 750, which I think lasted about two months. It wasn't why I bought the bike anyways. But so far, it's the only bike I've bought brand new off the showroom floor.
The bike was marvelously balanced and smooth riding. Very quick through the gears which only once did I really pin the throttle to see how quick it really was (some hotrod truck wanted to race me). Arm sockets straining, I was passing 60mph as I shifted into third gear. Scared the pants off me! Anyways, it handled very well in the corners and braked well as I recall. Just an all-around great handling bike. I bought it to tour the USA and ordered with it a Windjammer Mark IV fairing, color-matched to the bike. I was going to buy saddlebags and load up to go with a friend of mine at the time. I had told him of my dream of touring like my brother-in-law had done in the late 60's. He was game, but instead of a motorcycle, he bought a bright yellow 280Z and that meant I'd be touring alone. I can't really blame him - it was a very cool car!
With the touring plans cancelled, I did the same with the Windjammer and just rode the bike for another year, finally selling it to a good friend of mine.
Once side note. I got into my (so far) only accident on this bike. Some idiot clipped me in the exhaust and nearly t-boned me in the process. I stayed upright and wheeled around to take down insurance information, only to find out he didn't have any. Anyways, I decided rather than get the right exhaust repaired, I'd replace the whole thing with a Hooker Header! Man, I loved the way that header sounded! Back then Hooker was a big name in exhaust systems for cars and motorcycles.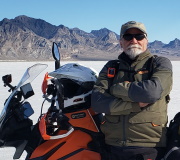 Tom Clark
I'm a Senior Software Engineer at Intellitect, living in Spokane, Washington. I also do a little development work on the side. And I love riding motorcycles all over the country with my friends.
© 2022 MTC Software, Inc.