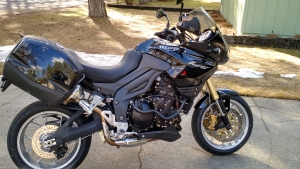 2010 Triumph Tiger 1050
| | |
| --- | --- |
| Engine | 1050 inline 3 cyclinder, four-stroke, water cooled, fuel-injected, DOHC, 115 hp |
| Transmission | 6-speed, chain drive |
| Starting | Electric |
| Fuel Capacity | 5.28 gallons |
| Brakes | Disc, Dual front and single back |
| Weight | 511 lbs |
| Color | Jet black |
| Miles | 39,191 (when sold in February 2021) |
| Tires | Michelin Road 5 |
Modifications
Triumph Bar Riser, Givi crashbars, Givi Topcase, Lowering links, Powerlet 12v outlet, K & N air filter, Cyclops LED lights
My Thoughts On The Bike
I saw this bike at Spokane's bike show in March of 2017 and because it was on my short-list of bikes to seriously think about, I did something I've never done at a show before - I talked to the salesman about the bike. I test rode it a few days after the show and traded my V-Strom in on it that same week. My initial impressions of the bike were power and smoothness. The bike nearly doubles the horsepower of the V-Strom that it replaces. When I rip the throttle the bike really pulls on my arms. There seems like no end to it. Very nimble for a 511 lb bike. The seventeen inch tires fore and aft make for very quick handling. The brakes are superb, at least compared to the Japanese bikes I've ridden. They have to be gently applied or the bike will stop faster than you're ready for.
Having ridden it for three years, I've really grew to love this bike. The handling is just awesome. Whereas with the V-Strom I felt I could ride the bike to the limit, the Tiger's limits are beyond mine. The horsepower is seriously addictive! But with all that, it's not a scary bike. Well mannered with power to spare - smooth up to the triple digits. But when you rip on that throttle you better be prepared for it. It has been a great touring bike, carrying as much as I want assuming I load it smart.
The one bad aspect of this bike is the airflow off the fairing. It's horrible. The buffeting will push your head all over the place. I tried a California Scientific windscreen after reading how well it did. For me it did nothing. Experiments with a solid piece of plastic in the windscreen's shape cut many different ways simply told me that my original solution was the best: cut it down short. What I have is enough to break the wind at high speeds (60+) such that I have clean air on my head instead of buffeting. I'm sure it's noisier than my V-Strom was and I do get more bugs and water, but it's not crazy bad. The rest of the bike's attributes more than make up for this single flaw.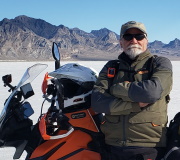 Tom Clark
I'm a Senior Software Engineer at Intellitect, living in Spokane, Washington. I also do a little development work on the side. And I love riding motorcycles all over the country with my friends.
© 2022 MTC Software, Inc.