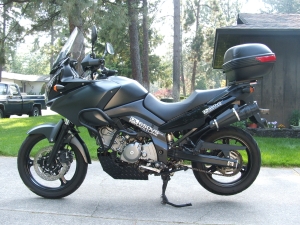 2008 Suzuki V-Strom DL650
| | |
| --- | --- |
| Engine | 645cc V-Twin, four-stroke, water cooled, fuel-injected, DOHC, 66 hp |
| Transmission | 6-speed, chain drive |
| Starting | Electric |
| Fuel Capacity | 5.8 gallons |
| Brakes | Disc, Dual front and single back |
| Weight | 480 lbs |
| Color | Flat black |
| Miles | 57120 (when sold in March 2016) |
| Tires | Michelin Pilot Road 4 |
Modifications
Rox Riser, Pro Taper handlebar, Heated grips (brand unknown), Grip Puppies, Madstad adjustable windscreen bracket, Givi crashbars, Givi windscreen, Givi topcase, K&N air filter, Kaoko throttle lock, Steel skid plate, Two PowerLet outlets, Signal Dynamics Back Off brake light module (wigwag pattern)
My Thoughts On The Bike
The V-Strom is an adventure touring motorcycle that handles well and is very inexpensive to own. I bought mine used in October 2009 with 19,100 miles on it. It's what I would call a very neutral-feeling bike. By that I mean it doesn't have rip-your-ears-off horsepower to scare you when riding it, yet it handles well in the corners, and in general is a very forgiving platform. With good tires (like the Michelins I ran) I could keep up with all but the most aggressive rider. If I had done a suspension upgrade, the bike's handling would have improved enough that my ability to hang with fast people in the corners would've been better than it was. Not that I raced the bike, mind you, but it had decent enough horsepower to move it along smartly. It had a very good torque curve and that low end made the bike very forgiving at low rpms.
When I bought the bike, there was a lot of people that labeled the bike a "dualsport". I thought of it that way too just the way it looks and is set up. Having taken the bike to Death Valley, I think I can safely say that while the bike is capable of being taken to rough places, I wouldn't classify it as a dualsport. You could stretch the description a bit by saying it's an adventure touring bike and that's how I describe it. A bike that is a 90/10 street/dirt mix. You can read my conclusions from that trip here.
I toured with the bike (see Bike Trips) a lot and loading it up with luggage doesn't mess too much with the bike's handling. I used Nelson-Rigg saddlebags - they hold a lot and have covers to protect from water when raining. I also used a roll-top waterproof bag made by Wolfman Luggage which has been one of the best purchases I've made. I try and leave the topcase mostly empty so it's available during the day to lock stuff away, shed a piece of clothing, store cameras, etc.