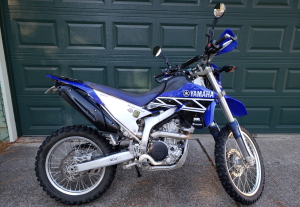 2008 Yamaha WR250R
| | |
| --- | --- |
| Engine | 250cc single cylinder, four-stroke, water cooled, fuel-injected, DOHC, 25 hp |
| Transmission | 6-speed, chain drive |
| Starting | Electric |
| Fuel Capacity | 3.1 gallons |
| Brakes | Disc, single front and back |
| Weight | 295 lbs |
| Color | Blue and white |
| Miles | 8,528 (when sold in January 2021) |
| Tires | Rear: Dunlop D606, Front: Pirelli MT21 |
Modifications
Pro Taper Trials Hi handlebar, Takedown mirrors, Acerbis handguards, Powerlet 12v outlet, IMS 3.1 gallon fuel tank, Tusk rear rack, SoloRacer Edge tail-light kit, Seat Concepts low, Ricochet Offroad Aluminum skidplate, Speedo DRD speedometer corrector
My Thoughts On The Bike
I bought this bike in February 2016 and I had a blast riding it that first year. After my experience with the XL250R, I wanted a really capable dualsport that I could take on trips into the mountains and down in Death Valley. Like before, I did a bunch of research before settling on the Yamaha. Only Yamaha, Honda, and Kawasaki have true 250s at that time. Suzuki has a 200 and 400, but for them I was only looking at the DRZ400. I read, searched the internet forums, talked to people, and finally chose the Yamaha. Why? Well its design is more dirtbike-oriented than the others. It has a higher output engine. When reading comparisons of the Yamaha, Honda, and Kawasaki, the WR250R always came out on top with the Honda close behind. Only the Honda was the other possible choice for me. I wanted fuel-injection and the steadiness at different altitudes that came with it. Only the WR250R and CRF250L had it. It was a tough choice, but in the end I went with what I had been reading about offroad performance.
The WR250R's first year was 2008 and that's the model I had. Remarkably, the bike hasn't changed much at all in 12 years. Small things, mostly cosmetic, but the guts of the bike remain the same. It's a tall bike which for me presents a bit of a problem as I'm short. I lowered the shock in it's bracket about a half inch and gained another 3/4 inch in the seat with a custom kit by Seat Concepts. But like other short riders before me, on the street I just slide over a bit and put one foot on the ground. Riding in the dirt I didn't notice the height at all. Even though it's a four-stroke, it likes to run in a higher rpm, but if you let off the throttle on a downhill section, you get that wonderful engine braking.
In 2016 I rode the Desert 100 Ironman, a couple of long weekend rides in the fall and lots of day rides in between. In 2017 I rode the WABDR, 2020 the IDBDR, and it was the perfect bike for both.