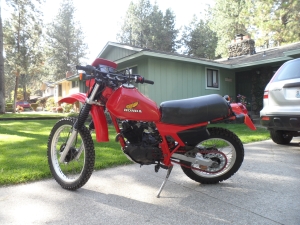 1982 Honda XL250R
| | |
| --- | --- |
| Engine | 250cc single cylinder four-stroke, air cooled, carburetor, SOHC, 17 hp |
| Transmission | 6-speed, chain drive |
| Starting | Kick |
| Fuel Capacity | 2.4 gallons |
| Brakes | Drum, front and back |
| Weight | 289 lbs |
| Color | Honda Red |
My Thoughts On The Bike
I didn't really buy this bike to ride, but rather as a project to tinker with. It belonged to one my best friend's son who had accidentaly blown the piston into the valves. Probably by over-revving, but who knows - the point was that it was toast. The link to the project pages is below, but for now I'll give a brief overview.
Really, the very first thing to do was to get the engine out and rebuilt. I thought about doing the rebuild myself, but better advice was taken and I handed it off to a local shop. dropping it off with a replacement head. After that, I tore the rest of the bike down to the frame, sanded it, painted it, then little by little started putting it back together. New bearings, brake pads, tires got the bike looking like a motorcycle again. Even though it was originally street legal, it had long since been turned into strictly a dirtbike. So I bought a replacement wiriing harness so I could attach all the necessary items to bring it back to what we now call a dualsport. My original goal was to restore it to original condition, but that turned out to be too expensive for me, so I had to be satisfied by just getting it running and legal. To that end I bought replacement parts that would work even if it wasn't the right year. Headlight, instrument cluster, rear fender and taillight, blinkers, switches, and mirrors completed the bike. The picture above is with it completed and having run at least once.
It was a fun project and now I had a dualsport motorcycle. A somewhat underpowered one for my tastes and a kickstart only to boot. It felt heavy (which it actually wasn't) and old (which is was). I took it on a few rides including a weekend trip down in Kamiah, Idaho where I really did enjoy it. But it never really lit a fire under me, so to speak, so the next year I sold it. Not before the timing chain ate its tensioner, however. So I had to replace that and get it running again. That wasn't really a problem though. It shows how much I learned while working on it that replacing the timing chain and getting the bike running again wasn't daunting to me at all.
What I really gained by this bike was a solid understanding of the basics of motorcycle construction. Yes, modern bikes are more complicated, but the fundamental workings have not really changed. So I'm really glad I owned this bike.