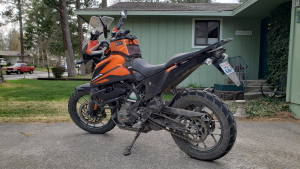 2020 KTM 390 Adventure
| | |
| --- | --- |
| Engine | 373cc single cyclinder, four-stroke, water cooled, fuel-injected, DOHC, 43 hp |
| Transmission | 6-speed, chain drive |
| Starting | Electric |
| Fuel Capacity | 3.83 gallons |
| Brakes | Single disc front and back |
| Weight | 379 lbs (wet) |
| Color | Orange |
| Miles | 1,543 (as of July 1, 2021) |
| Tires | Metzler Tourance |
Modifications
KTM 790 windscreen, Rox Riser, Barkbuster handguards, AXP skidplate and rear rack, Powerlet 12v outlet, Double-take takedown mirrors, UniFilter Pre Air Filter, Stebel air horn, Rottweiler rear brake master cyclinder guards, BRP Proline chain guide, Fenda-extenda, SW-Motech EVO footpegs, BDSB End Cap, Moto-Minded GPS mount, Grip puppies
My Thoughts On The Bike
I love doing the Backcountry Discovery Routes. As of this writing, I've done two of them: Washington and Idaho. I plan to do as many of the remaining ones in the west as I can. The problem is that it's a long way just to get there and while I trucked the bike down to the bottom of Idaho for the IDBDR, I can't keep doing that. That's why I've bought this bike. It's as close to a 50/50 bike as I've come across. Comfortable on the street at highway speeds, capable enough on dirt roads to handle the type of riding that I do. Make no mistake, this is not a single-track type of bike. It's a light adventure travel motorcycle capable of rough dirt roads as well as riding for long distances on the highway. At least that's what I've read - and I did a LOT of reading before I bought this bike. In January and February of 2021 I sold my 2008 Yamaha WR250R and 2010 Triumph Tiger 1050. Both are very good at what they do and I'm hoping that this bike does both dirt and street reasonably well.
I've only had it two months, but I really like it so far. It has more vibrations than the WR, at least subjectively it feels that way but not excessively so. But it handles really nice on the street, with plenty of zip. I've only had it off-road once, but it felt no different than the WR which was a pleasent surprise. I really expected to be underwhelmed. As warned on the ADV Rider Owner's Thread some of the bolts are a bit soft and they put a lot of thread locker on stuff that can be a problem. You can see from the modifications list that I've done a lot to fit the bike to my needs. I have Bridgestone AV41 Adventurecross tires that will get put on late in the summer and a new DID chain to replace the easily stretched stock chain. I may put on an additional guard for the plastic fuel tank, but it's not available until mid-summer, so we'll wait and see.
I'll have a shakedown weekend trip to see how it really handles with my Mosko luggage, then in August the COBDR.