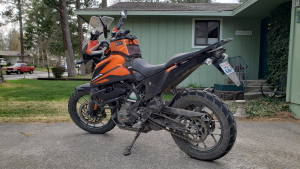 2020 KTM 390 Adventure
| | |
| --- | --- |
| Engine | 373cc single cyclinder, four-stroke, water cooled, fuel-injected, DOHC, 43 hp |
| Transmission | 6-speed, chain drive |
| Starting | Electric |
| Fuel Capacity | 3.83 gallons |
| Brakes | Single disc front and back |
| Weight | 379 lbs (wet) |
| Color | Orange |
| Miles | 5,206 (as of October 1, 2021) |
| Tires | Metzler Tourance |
Modifications
KTM 790 windscreen, Rox Riser, Barkbuster handguards, AXP skidplate and rear rack, Powerlet 12v outlet, Double-take takedown mirrors, UniFilter Pre Air Filter, Stebel air horn, Rottweiler rear brake master cyclinder guards, BRP Proline chain guide, Fenda-extenda, SW-Motech EVO footpegs, BDSB End Cap, Moto-Minded GPS mount, Grip puppies
My Thoughts On The Bike
I love doing the Backcountry Discovery Routes. As of this writing, I've done three of them: Washington, Idaho, and Colorado. I plan to do as many of the remaining ones in the west as I can. The problem is that it's a long way just to get there and while I trucked the bike down to the bottom of Idaho for the IDBDR, I can't keep doing that. That's why I've bought this bike. It's as close to a 50/50 bike as I've come across. Comfortable on the street at highway speeds, capable enough on dirt roads to handle the type of riding that I do. Make no mistake, this is not a single-track type of bike. It's a light adventure travel motorcycle capable of rough dirt roads as well as riding for long distances on the highway. At least that's what I've read - and I did a LOT of reading before I bought this bike. In January and February of 2021 I sold my 2008 Yamaha WR250R and 2010 Triumph Tiger 1050. Both are very good at what they do and I'm hoping that this bike does both dirt and street reasonably well.
I've ridden it 5,206 miles this first year. It has more vibrations than the WR, at least subjectively it feels that way but not excessively so. But it handles really nice on the street, with plenty of zip. In September of 2021 I rode down to Colorado for the BDR and really tested its mettle. Read the report here, but the conclusion for me is this bike does what I wanted it to do. The one downside is that with knobbies and luggage, at speeds in excess of 75 mph the bike gets a bit "twitchy" - that's the best word I know of to describe it. But everywhere else this bike has really stood up to what I asked of it. I'm happy I bought it.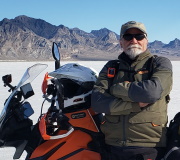 Tom Clark
I'm a Senior Software Engineer at Intellitect, living in Spokane, Washington. I also do a little development work on the side. And I love riding motorcycles all over the country with my friends.
© 2022 MTC Software, Inc.