You're doing what???
During the middle of November 2010 I came to the conclusion that motorcycles have become my hobby. As a way of embracing that idea, I acted on a thought I had earlier this year: that it would be fun to restore a motorcycle to riding condition. I'm mechanically inclined enough to do most of it with what I know now, and the tough part - rebuilding the engine itself - is something I can learn. The only problem I had earlier this year was what would I choose? It came to me this past week. I've been needing to improve my dirt riding skills if I'm ever to take my V-Strom on a true adventure ride (meaning in the dirt). So I thought back to when I was a kid and loved hearing and seeing those great old Honda 250 four stroke thumpers. I asked a few friends to keep an eye out for someone who might have an older 250-500cc four stroke that needed some TLC. My friend Tim Pontius had a 1982 Honda XL250R in his garage that belonged to his son Danny. It suffered a broken valve that punched a hole in the piston back in the summer of 2009 and had been pretty much sitting there since then. So on November 13, 2010 I brought that bike home and it's going to be my project bike.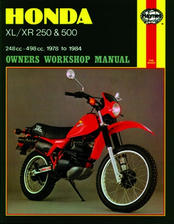 Feel free to pop back over here from time to time and see what I've done lately. It'll be a long process because there's going to be plenty of things I have to learn before I can get this bike running again. One of the really nice things is that Tim and Danny had some great repair information. They bought the Haynes service manual for the bike (I've bought a Haynes manual for every car I've owned). They also had a notebook full of exploded drawings of the bike that come from the Honda service manuals, so not only can I see how things go together, if I need something from Honda, I can just point at it and say "gimme one of dose!"