As with everyone else in the country, my plans for rides this year have had to be altered. The trip to Death Valley for April was cancelled which was very disappointing, but nothing could be done about it. I've had to hunker down and stay isolated for the past six weeks, but May is here and the isolation is beginning to lift. The state of Washington has a four phase plan that supposedly allows flexibility for those counties that have little to no infection rates and can "open up" earlier than say King County. My friends north and south of Spokane County are already getting back to work.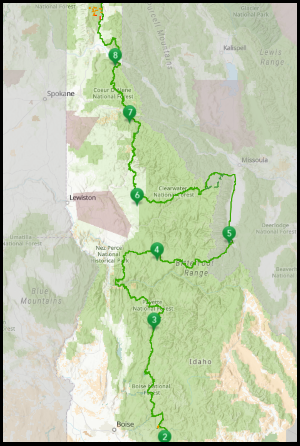 The other trip for the year that I was contemplating is the Idaho Backcountry Discovery Route. Twice as long as the Washington Backcountry Discovery Route that I did in 2017, this one covers similarly different countrysides: from desert to Rocky Mountain forests. From what I read in other people's reviews, the terrain isn't as difficult as parts of the WABDR, but it's long and can definitely reach areas where depending on the time of year you travel you might encounter snow. The "band" is back together: my brother Dave, friend Tim Pontius, and I will be doing this in mid-August so snow will probably not be an issue. Idaho is already lifting their restrictions and by then Washington will be well on its way to be fully open as well.
We'll be able to run the route similarly to the WABDR meaning there's fuel and grocery stores along the way. But there may be gaps in grocery stores somewhat so I'm going to have 2 or 3 freeze-dried meals with me. That way if there's just nothing along the way, I'll still have a meal available as long as we carry enough water. One thing I'm looking forward to is that due to the length and remoteness of the route, we'll be doing more primitive camping. That means just finding a great camping spot and not waiting to find an organized campground to show up. I really like this type of camping because it reminds me of my backpacking days. You get a beautiful view of the stars at night and it's really quiet! Now don't get me wrong, we'll be staying at some regular campgrounds too because a hot shower has great value after a few days of "wild" camping.
I can't wait for this trip! It's been a long spring and all of this isolating as made me a bit stir-crazy, as probably you can relate to!

0