This past weekend I took a long weekend getaway on my bike with my brother Dave. I wanted to do a little fishing and riding and just generally get away from work, town, and people. We rode up through Newport and then Sandpoint and finally down through Clark Fork where we hopped on to the IDBDR which took us eventually to the north fork of the Coeur d'Alene River. We camped at Big Hank Campground which is the northern-most Forest Service campground. It was not packed, but then again, we got there on a Thursday afternoon so there were still places to grab.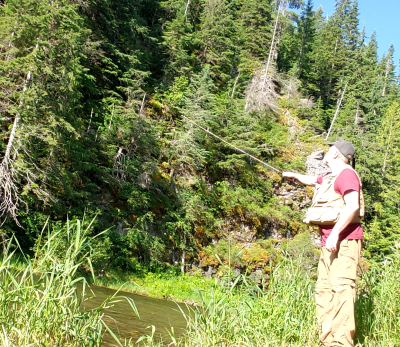 The next morning we had a leisurely breakfast and got to the business of fishing. Now, I'm no fly fisherman. I understand the principle, but I don't have a fly rod. But you can use a spinning rod just fine. Put the fly on the end, a bobber 6 or 7 feet away with a little weight to help casting and you're set. We walked over to the river and found a nice pool, but while I had one jump at my fly, I couldn't get him. We decided after a while to go to another spot after lunch. So we hopped on the bikes and headed south a mile or two and found a really nice spot up against a rock cliff with a nice deep pool.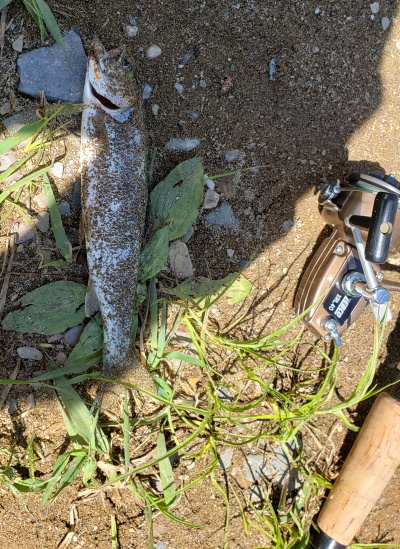 I snagged a little 7 incher and threw him back. Five or six casts later disaster struck: my spool came right off my reel. It was a very old rig and I must not have tightened it enough. So that ended my fishing. But hey, I caught something!!
So rather than go home, we decided to do a little riding instead. That afternoon we got back on the IDBDR and rode past the Magee Ranger Station and on up to Spyglass Peak. We wanted to see the lookout tower, but the road was closed.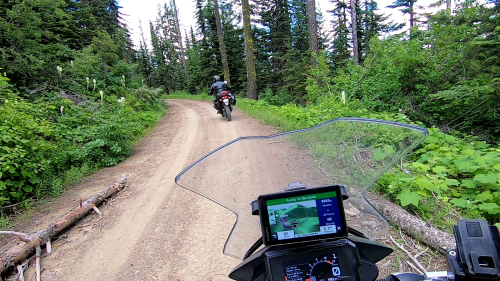 That was the only place for cell service and we found out our friend Tim Pontius was going to join us. He got to our campsite just 30 minutes after we did. Great timing! For the next day, we decided to follow the IDBDR to the border and also go see the lakes at Roman Nose.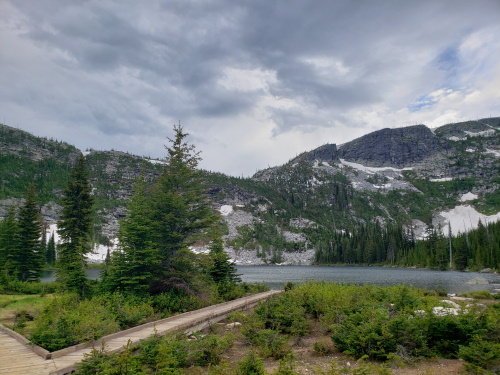 Once you're past Clark Fork, the route is a lot of pavement, but the scenery is beautiful. The side trip to Roman Nose Lakes is well worth it. After that we rode to the border, took a picture, and then headed to nearby Robinson Lake for the night.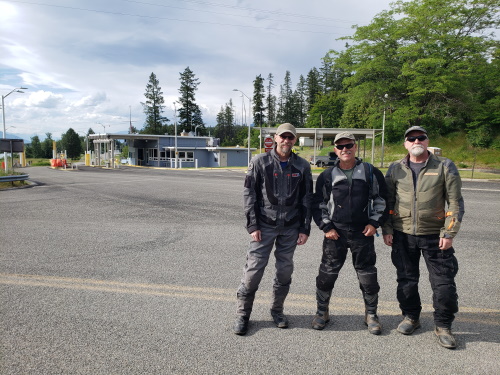 It is a lovely campground well cared for by the host, Jack and his wife. The next day we rode home. So it was a short trip (just smidge over 500 miles ridden) but a great getaway.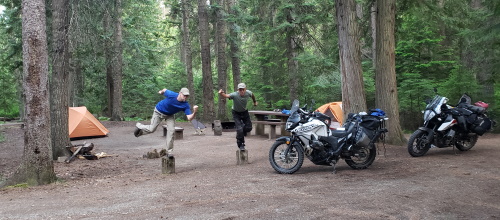 0