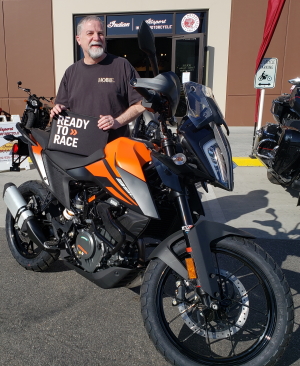 Spring is here and and so is riding season. Last blog entry I talked about having sold my two bikes, the Yamaha WR250R and Triumph Tiger 1050. Yes, it was a sad thing. But look at the picture to the right. That's me on March third picking up my 2020 KTM 390 Adventure! What happened to the 2021 you ask? Well, they got this one (still in the crate) in on a trade and let me know about it. I ignored it because I figured I'd rather have the latest year. That is, until I found out there was no difference other than an additional $200. So I told them I'd take the one thay have since it was in the color I wanted.
The picture below is is in it's current state after a 300 mile ride in the Palouse, which put it past the break-in period. The verdict after 700 miles is that I love the bike. Though it's 75lbs heavier than the WR, it doesn't feel like it. It's very nimble on the street and handles no different than the WR on the dirt roads I road last week. With more horsepower than the WR and better street handling, it's very nice on the road with plenty of power on the highway. Obviously not nearly what I had with the Triumph, but that thing had 115hp!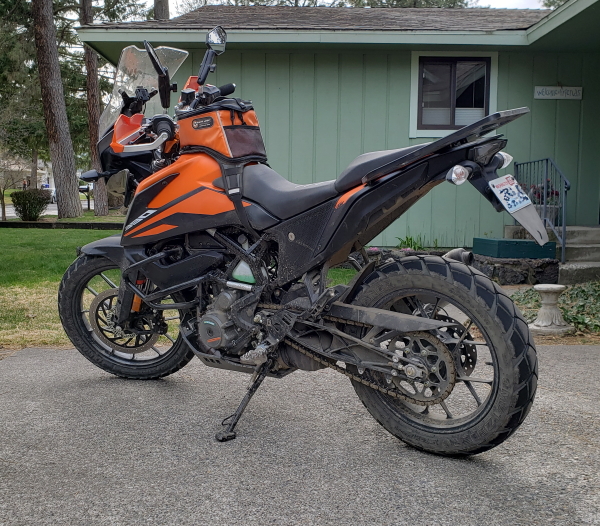 Over the winter, I had purchased extras to put on the bike and I've got nearly all of them on now. Here's what I've added: KTM 790 windscreen for more comfort at freeway speeds, Rox Risers to bring the bars up 1.75 inches, Grip Puppies for a more comfortable grip on the bars, Barkbuster handguards in KTM Orange, Double Take ADV mirrors, AXP skidplate and rear rack, SW-Motech EVO footpegs (lowered and positioned flat), MotoMinded GPS mount for my Garmin Zumo XT, EBC brake pads for the rear brake (original pads are worthless), Rottweiler rear master cylinder guard kit, and some other minor goodies. Plus, a Giant Loop Fandango tankbag and pannier pockets. Yes, that's a lot of stuff, but each is required to make the bike fit me and my requirements for usage. I have a new set of Bridgstone Battlax AV41 AdventureCross tires that I'll put on just before my trip to Colorado for that state's BDR. Plus a new chain and BRP Pro-line chain guard will go on at that time too.
My brother got his KTM in white from Oregon two weeks ago, and my friend Tim Pontius has had his Kawasaki Versys 300 for a couple months now. All three of us will be taking a shakedown weekend trip in early summer to make sure we have everything we need for the COBDR trip in August.
I've drunk the cool-aid and am a full member of team orange now!

0