It's been a bit over a week since I finished the Idaho Backcountry Discovery Route and I have to say it was an awesome trip. Marred by smoke, yes, but riding through the Idaho Rocky Mountains is never without benefit. We saw some beautiful scenery even if it was mostly close up. There were no incidents, mechanical or otherwise that cause any real problems. And as always with trips like this we met some interesting people.
Starting out Thursday, September 10th, we loaded our bikes into the back of a rental truck and drove the 467 miles from Spokane, landing at the Hampton Inn in Mountain Home, Idaho for the evening. We met a nice couple from North Carolina, Glenn and Janet, who were tackling the IDBDR from the same start point as us. The next morning saw us returning the truck and hitting the road. Riding through places like Featherville, Lowman, Yellow Pine, and Warren, we crossed small streams, mountain passes, and just generally enjoyed the beautiful countryside that is Idaho. Because of COVID, there were more travellers on the route than would normally be I think. We enjoyed great temperatures and no rain, but there were several fires in Idaho that made long range viewing of the mountains impossible. So we skipped several lookouts as there wasn't much point in going to a place where the views would be obscurred. This unfortunately was reminiscent of the WABDR that we did in 2017. One difference though is that as I had read, this route is definitely easier than portions of the Washington route. One true water crossing and a rocky bit up the hill toward the Blue Heaven Cabin and that was it. The rest was very easy roads for even a rider with intermediate skills. Of course we're on light 250's so that helped. Would be a different story if I was on some 500+ pound "adventure" bike.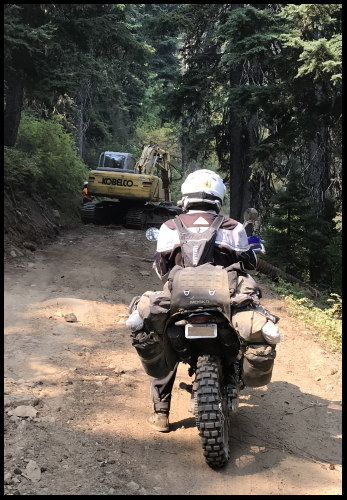 We met and chatted with all sorts of people, hearing their stories and finding out about any road closures (there were none unless you count a construction delay) ahead of us. I think that makes for some of the best parts of the trip. Meeting the locals in tiny towns, talking with other riders along the way and sharing our experiences too. Toward the end of the ride we started talking about our next trip. We want to do the Colorado BDR next, but we don't know when that will be. Next year maybe? We'll have to wait and see.
There's a lot that will happen between now and then. Until then I will continue to gather up my memories of this trip and get them in a report for my website as well as getting a little video of the trip. Look for those over the next few weeks.

0