Idaho Backcountry Discovery Route.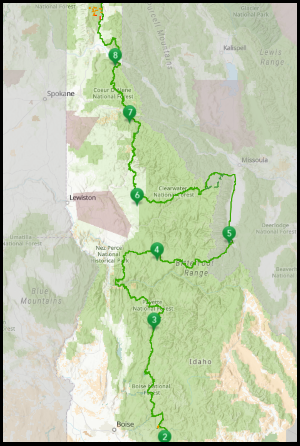 That is next on my agenda. COVID prevented me from going down to Death Valley as I originally planned, but this next trip is going to happen! My friends Tim Pontius and Bill Motsenbocker will be joining me. My brother Dave was going to go, but schedule changes with his family made him realize that it'd be best if he skipped this trip in favor of a last vacation with his family before his oldest son Aidan goes into the US Air Force. It was the right decision, but we're going to miss him.
If you go to the BDR website you'll be able to view all sorts of stuff about the trip. We're going to do it the traditional direction of south to north. One change for us is that we've decided to skip the first 100 miles of just plain gravel roads. We've done plenty of that and have been through southern Idaho enough that we're not missing anything. So we'll start from Mountain Home and follow highway 20 to where it connects to the route and go from there. Today I did a "dress rehearsal" for packing the bike to make sure everything fits fine and to see how much gear I'm taking. As you can see from my little mule that everything fits perfectly with my Mosko Moto bags which I've used on a couple of trips.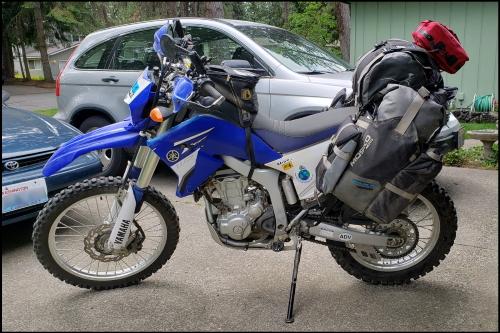 One addition you'll notice is that big red zit of a bag on the back. Since my brother's not coming he's given me his first aid kit. It's from SurvivorWare and has pretty much everything we might need. I have a molle connection on the back of my Mosko bags so I was able to secure it there. I weighed it today and it's exactly 60 lbs. which is about 5 lbs more than when I did the WABDR.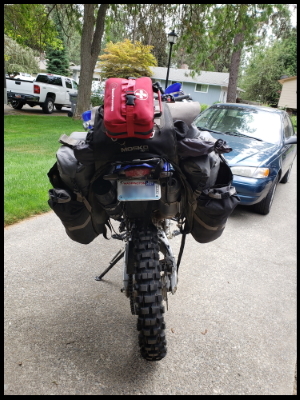 Probably due to the first aid kit and hatchet I'm bringing. But I've lost 20+ lbs since that last trip so I should be a net amount lighter, right?
I've been following the IDBDR threads on ADV Rider and Facebook and the snow is gone now so we should have a great ride. One point of caution is that I'm hearing about more traffic in places where it's easily accessible for trucks so we're going to have to watch out on blind corners. But aside from that I'm really looking forward to the trip. Dave, even though he can't go on the trip with us, has offered to drive us down so we don't have to rent a truck to get us down there in one day. He'll spend the night with us in the hotel, then we'll go our separate ways in the morning. We'll be driving down there on Thursday, August 13 and starting the ride the next morning.
Watch here and on Facebook as I'll post some updates as I have them. I can't wait!!!

0