Starting this week, I begin a new job with a startup company here in Spokane, Washington called Behind The Gavel. We do electronic evidentury support for federal, state, and local court cases. I've been helping them out for about 8 months and now I'll be working for them full time. I'm excited about it because they're a small company at the beginning of a time of rapid growth. It gives me the opportunity to have a huge impact on their success. Plus they're just a fun bunch of people! I will be continuing construction of a web application for them as well as working on their internal processes, automating where it makes sense. Because in a company that small titles are pretty flexible, I'm taking Chief Technical Overlord. Yeah, I think I can live with that title!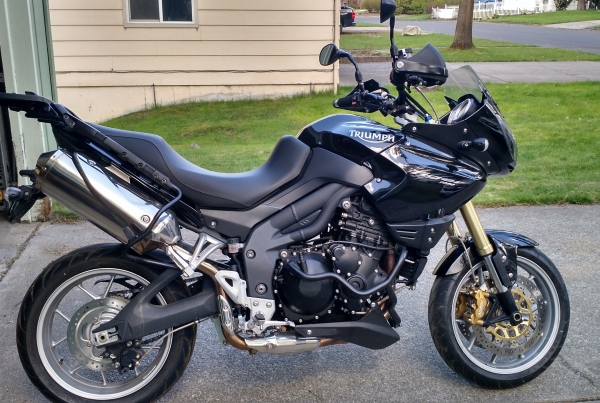 Bike work
Meanwhile, I've also been busy on the bike front. My rear rack came in so I can mount my Givi Topcase. I've wired up a PowerLet outlet for charging phones, cameras, etc. And I've wired up a connection for my powered Garmin cradle. I'll be using it on both the Triumph and Yamaha, so I've wired it with a connector so I can plug it into either bike. I've not been happy with the amount of buffeting the windscreen gives, so I did a bit of experimenting. I took the windscreen off completely to see what it feels like at speed. As people on the Tiger 1050 forum said, it was much quieter and no buffeting, but there was increased pressure on my chest. So I knew I needed to cut the existing windscreen down. I cut it down two inches and then tried it out. Still too noisy. So I cut another two inches off.
That seems to be doing the trick so I cleaned it up, sanded down the edges. Last week, my shorter risers showed up and so I got the bars in a comfortable position with my Rox Risers. The result of the bar reposition and shorter windscreen is I now have clean air on my helmet and just a smidgen of wind at my shoulders. Very livable and so that's where things will be for the forseeable future. At the end of this month I have a weekend trip with some of my friends so we'll see how it all works out.
So the Triumph is ready for touring and the Yamaha is ready for ADV. With the weather finally cooperating it looks like it's going to be a great year of riding!

0