So a funny thing happened at the Spokane Motorcycle Show last Saturday. There I was, strolling along looking at bikes, minding my own business, when suddenly a bike bit me. Hard. No, it wasn't painful but it was irresistable. Like a moth to a flame I was pulled right in (can't really say "kicking and screaming" though). It was a 2010 Triumph Tiger 1050 in black with luggage. Pretty much made-to-order for me. This is the main bike I've been thinking about for a few years. Ever since I got back from my 2013 two week trip around the western USA I've been wanting more horsepower and better handling. That meant focusing on a street bike with no pretensions of dirtness.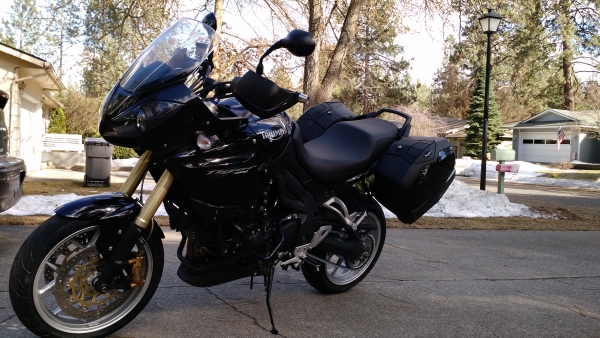 The 1050 looks like it could be a big dualsport, but make no mistake, it isn't. What it is though is a 115 horsepower touring machine. That's nearly double the output of my venerable V-Strom. Don't get me wrong, I loved my V-Strom. It's a do-it-all bike that is very forgiving and handles very well. For my first bike (after a 30 year hiatus) it has been perfect for me. I've just felt like I wanted more.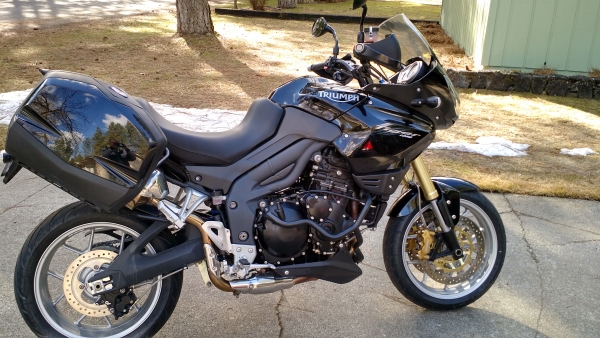 Enter the Triumph. I know that the Tiger 800 is all the rage and would also get me into adventurous places, but my riding ability with a 450 lb bike is not stellar. That's what my Yamaha WR250R is for. This however is for touring long distance and seeing the country. Some might have thought that getting the Yamaha meant I was giving up the road. No sir-ree-bob. I knew that I was going to like it, so I cleaned up the V-Strom, taking all of the extra stuff that wouldn't get me any advancement in trade-in, grabbed the title and manual, and rode over to Empire Cycle to give the Tiger a ride. Of course I loved it. Was there any question? First it's fast - like holy-smokes-hold-on-tight fast. Seventeen inch wheels fore and aft mean sweet turning, which it does. I now know what they mean about European motorcycle brakes. Whoa baby, easy does it. These binders grab and I mean right now! Two finger touch on the front wheel, baby. In short, it's a very balanced bike with smooth power delivery and I can't wait to get it in the twisties!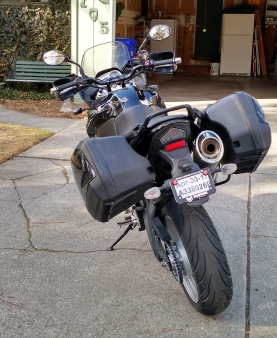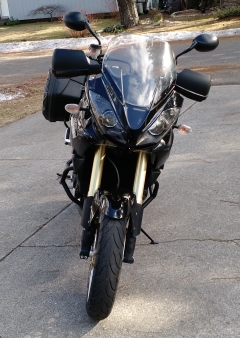 So what's missing? Well, for one the windscreen is too small. I have buffeting at highway speeds which the 1050 forum discusses. I'll be looking at a spoiler or whatever you call it to go on the windscreen to deflect more wind. I'll need to install a powerlet outlet for my electronics and a RAM ball to hold my GPS. I need to buy a bracket for the grab handle to mount my Givi topcase. Long term, I will probably do a suspension upgrade. Like a lot of stock bikes it dives when braking and there are handling gains to be made also. I'll be talking to my west-side friend Rob Newman about that - he used to own one ("it was probably the best street touring/handling bike I have ever owned").
So I have a whole new level of excitement for this year. I've a lot of dirt riding planned and undoubtedly will be looking for every opportunity to ride the Tiger (what a great phrase)!
TL;DR: Saw a 2010 Triumph Tiger 1050 at the Spokane Motorcycle Show and traded my V-Strom in for it five days later.

0