October is here and with it the close of the riding season is near. For the first time in six years, I didn't take a long trip anywhere. Unless you consider a 1000 mile trip down to Oregon and back a long trip. It was a lot of fun riding with my good friend Tim Pontius. But I've only put a smidge over 1600 miles on the Vstrom this year. I'd have to say for me this was the year of the dirt bike.
Gettin' Dirty
I bought my 2008 Yamaha WR250R earlier this year and have put just over 1000 miles on it this year. There will be probably another day or two that I'll take it out for a spin in the dirt somewhere. Most of the miles came from two different weekends in Idaho with a bunch of my friends from the CMA Fastlane. We ride dirt roads, fire access roads, ATV, single track, and what I've taken to calling "no track" trails. That last is where the trail is marked with tape and led by the guy that marked it out but we're pretty much the first ones down it. Both of those weekends were around 250 miles - we ride out to the fun and have to ride back, usually on highways. Even being on the highways was not horrible. It's nice to know that I can keep up with people on much larger bikes. This year was one of getting used to the bike and getting out there and finding out what I'm capable of. From the Desert 100 Ironman to some tough single track up near Tiger Pass in the northwest corner of Washington. I spent time at the local ORV park practicing a bit this season too. There's a couple reasons for wanting to improve my skills. Certainly there's the fun of tackling tough terrain and coming out on top (that is, upright).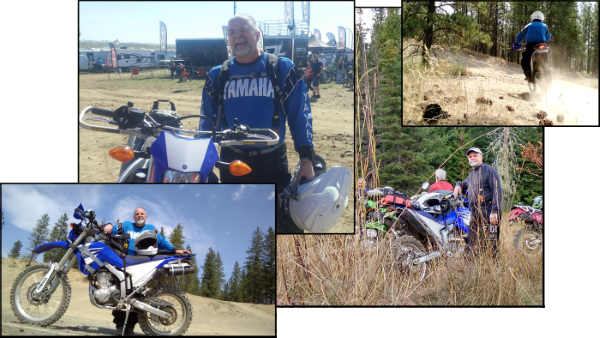 WABDR
The second reason is that I intend to ride the Washington Backcountry Discovery Route next year. Over the winter I will be acquiring the necessary items I will need to do this kind of trip. Soft luggage from Mosko Moto, a larger fuel tank for the bike, and new Garmin GPS. I have my map of the route and I've already been scaling down my camping gear so I should be ready. It's much more "adventure" riding than I've done before, but it's what I've had in mind for quite awhile. I believe I have the right bike for it too. None of those 500-600 lb behemoths loaded up with another 100 lbs of luggage for me. If I can't lift the bike up when I fall, then it's way too heavy. Besides, maneuvering those monsters up and down slippery roads or trails doesn't sound like too much fun to me. My brother will be similarly equipped and the two of us will tackle Washington's BDR in 2017 and I hope to do Oregon's, Idaho's, and some day Colorado's BDR in the years to follow.
Goodbye Vstrom?
No way! I still love my bike and find it fun and just the right size for highway touring. I still have plans for a trip to Alaska and back and the Vstrom is just the bike for that trip. But the Yamaha is perfect for my backwoods riding and adventure trips here in the Pacific Northwest. I hope to get better photographic equipment and chronicle my little adventures too.
Can't wait for 2017!

0