The first week of March 2015 I spent riding my Suzuki Vstrom 650 in Death Valley. I had always wanted to test the bike and myself to see if it and I were capable of real "adventure" riding. I'm happy to say that I survived and so did the bike, but the latter was not without some slight damage.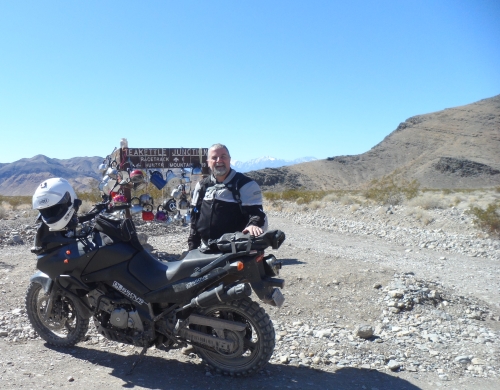 All four changes I made to the bike really paid off however. The Continental TKC80 tires gave me the grip in mud, rock, dirt, and sand. The skid plate? Well, let's just say that were it not present, I would have destroyed my engine. The dirtbike footpegs gave me a stable platform to stand on while the bike hopped around at times. Then there are the handguards. When I hit the rock wall (literally) it saved my clutch lever from breaking, also saving my hand from being broken. It didn't of course save my blinker, but I didn't think I'd come back with two whole blinkers anyways.
So yes, I was challenged and aside from the incident with that rock wall, I feel pretty good about my abilities. People that say that the vstrom is a proper adventure bike do have some legs to stand on. But ... I still hold with my original position that it is a bike that is about 80 percent street and 20 percent dirt. It's just too heavy. Yes I navigated some pretty rough terrain, but would it have been easier with a different, perhaps lighter bike? Absolutely.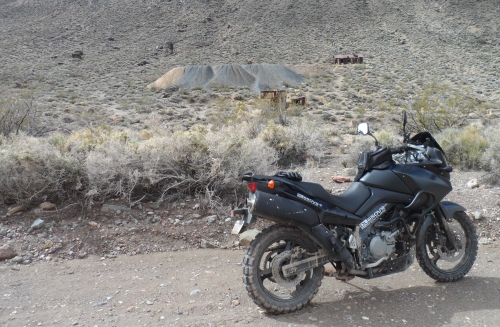 Which brings me to my ephiphany of the trip. If you're going to go round the world on one bike, you're going to have to decide what is most important: how much gear you can take or how much handling to retain. Because you can't have both. If I had to go on a RTW trip I'd probably choose the Triumph 800 XCx. It's no heavier than the vstrom, has more horsepower, and would handle the rough stuff better. But the weight be compromising a bike's handling in tough situations. It's an academic stance however because I have no plans for such a trip.
That means I'm free to make a much more sensible decision: two bikes. The vstrom or a bike like the Triumph for adventure touring. Probably all on pavement, but with no worries if I had to pop on to a dirt road or two. But I'd get a true dualsport for the dirt adventuring: powerful enough to get me up and down hills and light enough to throw around while doing it. Something like a Yamaha WR250R or a Honda CRF250L. If I had enough money, maybe a KTM 350 EXC-F. Put an aftermarket tank to entend the range to 200+ miles, a small rack for soft luggage, and you're off!
That's my goal: to find a light bike to get into the dirt with. Because why should I make things harder for myself when I don't need to?

0